Last updated: November 7, 2023
Gridwise is a delivery driver and rideshare assistant app that helps drivers maximize earnings and increase profitability. The app provides a range of features such as mileage and earnings tracking, demand insights and alerts, performance and personal insights, and exclusive Gridwise perks.
While the app is primarily meant for rideshare and delivery drivers, one can use it in any scenarios that require mileage tracking, whether you are a sales rep, field service worker and so on.
The Gridwise app also let drivers to sync their apps and track their gig work for an all-in-one view of earnings, expenses, and mileage. Gridwise provides personalized insights on where and when to drive, so drivers can make smarter driving choices.
The app is available for free download on both Android and iOS platforms and we are going to use the free trial version for testing and reviewing the features it offers.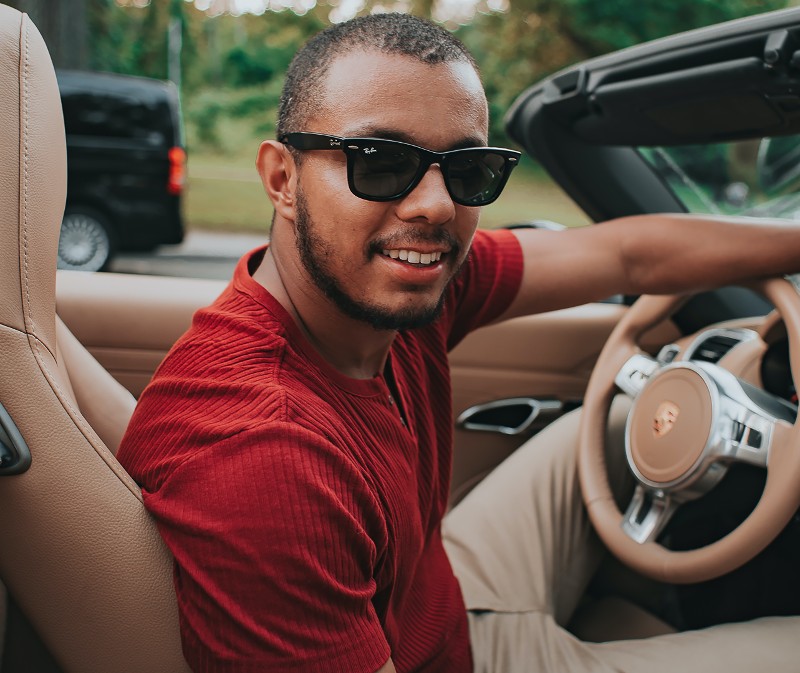 Getting Started
Getting started with Gridwise is pretty standard and straightforward; just download the app and sign up. The first thing you'll notice is the extensive list of approximately 100 gig economy apps that you can integrate with Gridwise. This is really just a sample: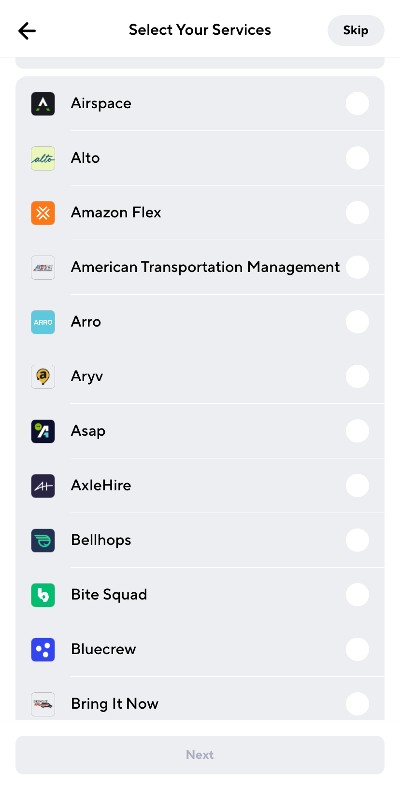 What's Good in Gridwise?
The structure of the review is going to follow a simple classic divide: first, we're going to take a look at the compelling features in Gridwise and then the ones that lag behind MileageWise's offerings. Let's get started.
Mileage Tracking
To start tracking your mileage, just flip the steering wheel icon in the top-left corner of the screen and you're good to go. The app will use your GPS to track your movements and of course, you'll need your internet subscription running in the background to enable the tracking: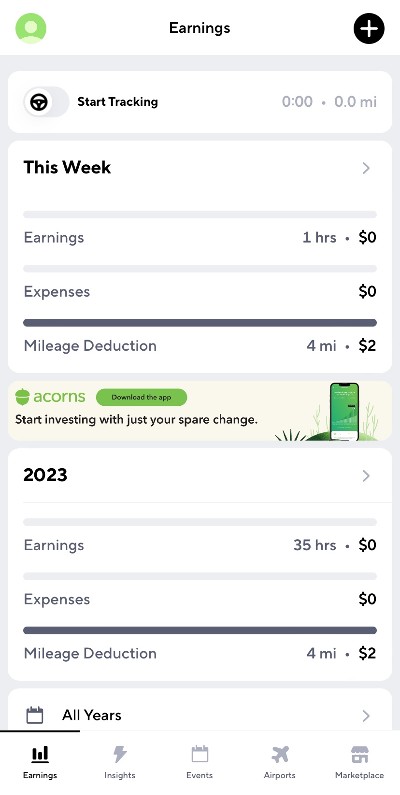 While in real life, the tracking would run all day, for the sake of the test, I stopped the tracker after a trip to see what data I got. Again, as it is standard with mileage tracker apps, you get an automatic deduction figure calculated (and yes, in the free version, you get your ads, too).
.
In order for the Earnings feature to be active, you need to link Gridwise to your gig service: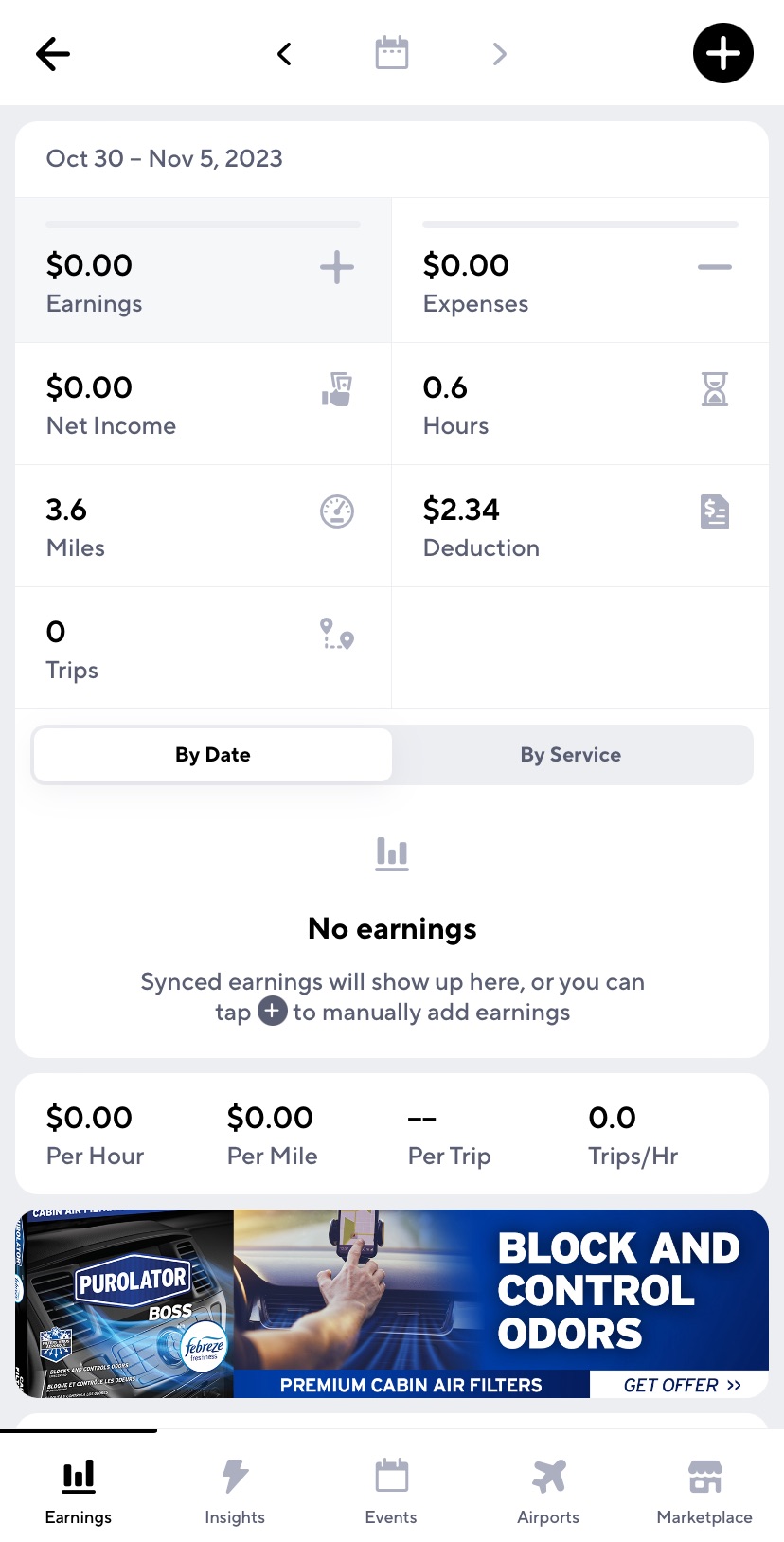 Route Optimization Insights
Gridwise also offers users various insights to make driving as hassle-free as possible. Here's an example of advice from the app on where and when to drive: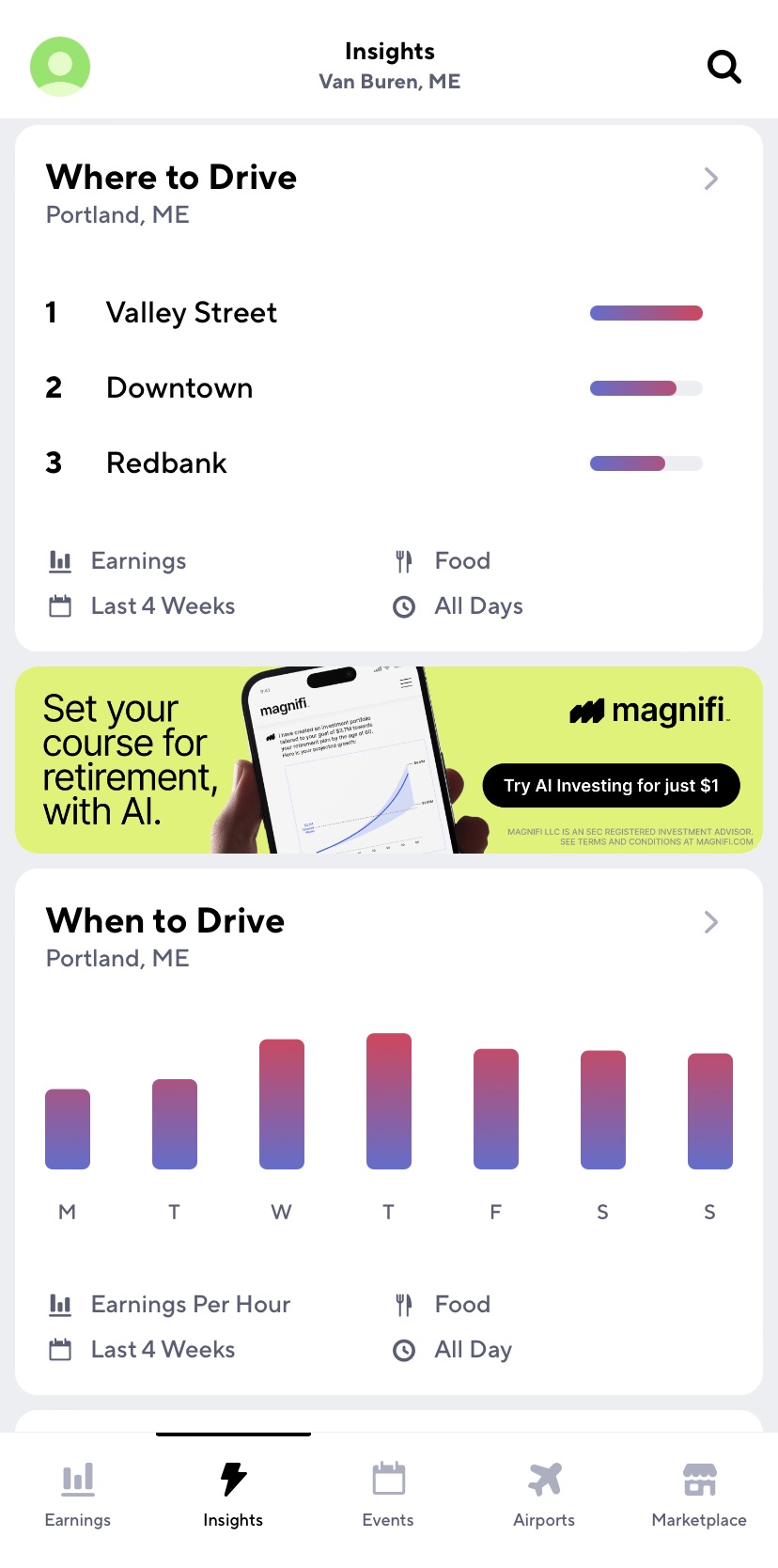 Events Calendar
From concerts to sports games, Gridwise notifies drivers of major events, including their start and end times, so they can capitalize on high-demand periods. At the time of checking, there was no event to mention in the vicinity. You can adjust the settings based on date, time, distance and event size:
Airport Demand
Airports are hotspots for high-earning rides. Gridwise offers real-time updates on flight arrivals and departures, enabling drivers to time their airport runs perfectly. Note: even though Van Buren, ME doesn't have an airport, the app didn't show any nearby airport either. We couldn't figure out if it's because it's not included in the free trial version, or because there was a glitch.
Exporting Tax Reports
You can, at any time, email yourself or your accountant the tax files generated by the app in PDF format, even during the free trial period. Just tap Export Tax Reports on the Earnings screen. On the resulting screen you can select the format, then the date range and then you are set to send it:
So Far So Good – But What's In The Paid Version?
As you can see, Gridwise does offer great features for delivery and rideshare drivers even in the free trial version, but what can you unlock in the paid version for $9.99/month? Here's Gridwise's offer:
Earnings: you can create CSV tax reports to use in a spreadsheet or bookkeeping software.
Events: you get unlimited event reminders.
Airports: you get to see the next 24 hours and the previous three hours of arrivals and departures. You can also enjoy up-to-the-minute info on individual flights, including plane sizes, arrival times, and delays. Plus, you get to create custom alerts for when the airport is busy or there are significant delays.
There's also a bunch of added benefits advertised such as tax help with 50% off, rental savings, and similar offers. It is also mentioned that ads are gone in the paid version.
Gridwise vs MileageWise
Let's take a look at now the features and benefits you don't get in Gridwise, but you can enjoy in MileageWise.
What's Missing?
Absence of Editing Features for Past Trips
It's unfortunate, but once you've recorded a trip, there's no way to go back and make edits with Gridwise. You're unable to modify the details, change who you visited, or the reason for your visit. The only option it offered was to delete trips.
Conversely, MileageWise offers a variety of editing options within the app to amend your journeys as necessary. Just select Revise Trips and you're good to edit: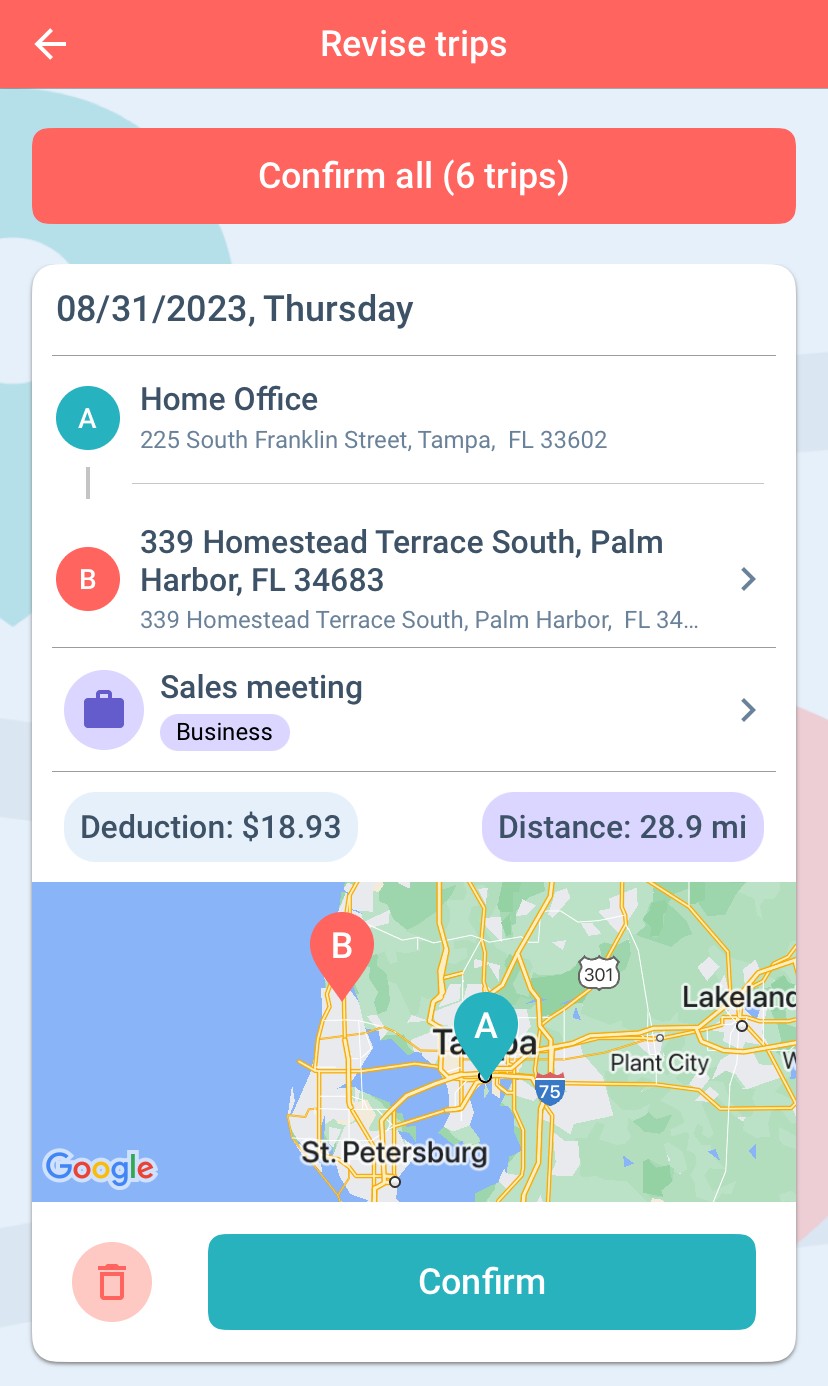 No Retrospective Logging
A notable area for improvement in Gridwise is the inability to backtrack or reconstruct past trips accurately. Although manual entry of trips is an option, it's not without the risk of errors.
However, MileageWise has got your back, providing effective solutions to ensure your trip records remain intact and precise for your mileage log.
Google Maps Timeline Integration: Utilize your Google Maps Timeline, which records your daily trips, to create a log that aligns with IRS requirements. Enable Google Location History for additional safety and data loss prevention. In the event of an audit, Google data can be retrieved via Google Takeout and transformed into an IRS-Proof format using MileageWise.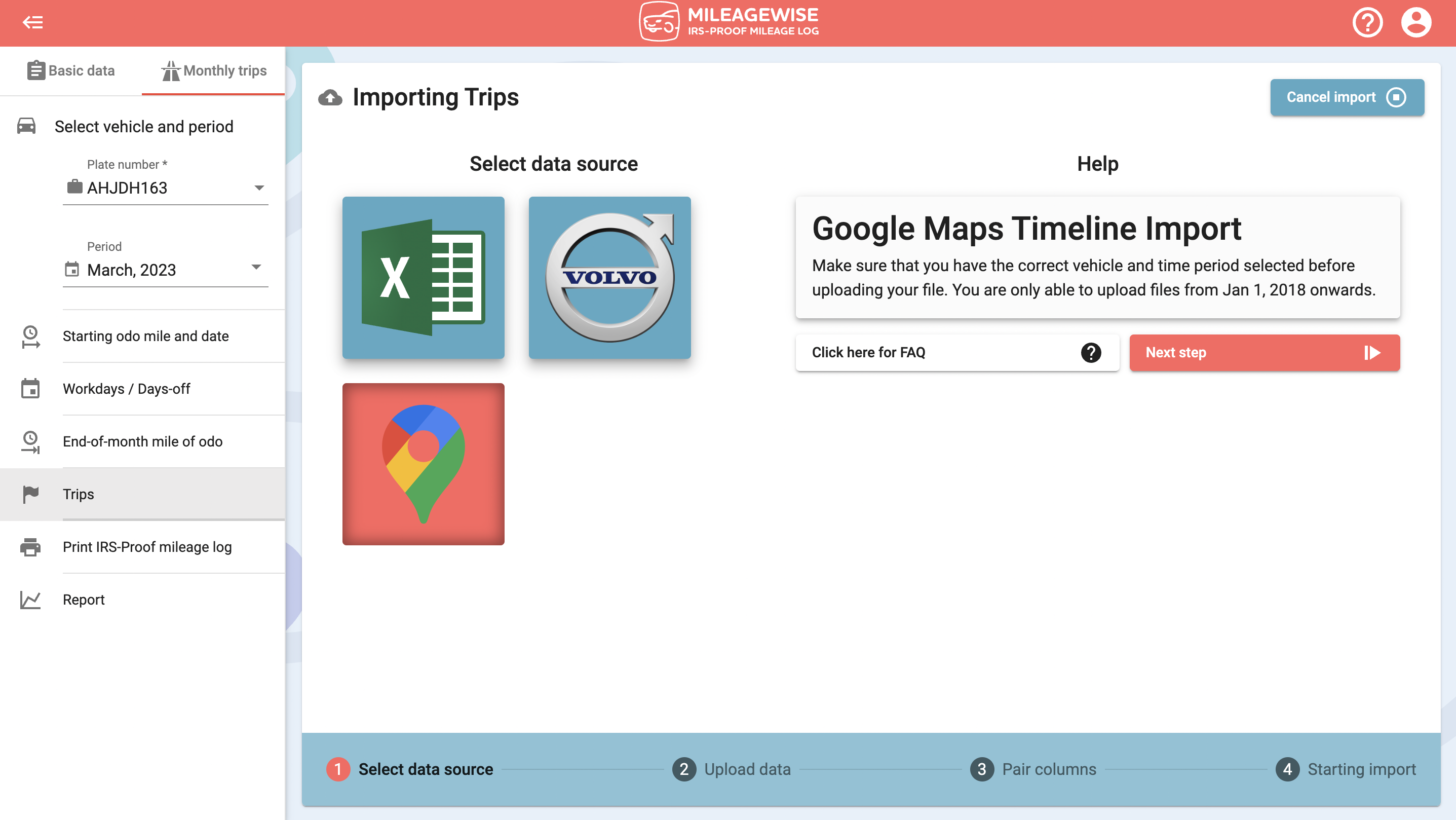 AI Wizard Assistance: MileageWise's AI Wizard presents another approach to retrospectively generate logs, offering suggestions based on past driving habits and visited places. These logs can then be used in your official IRS-Proof documentation.
No Built-In IRS-Proof Mileage Log Creator
Gridwise lets Gridwise drivers handle tax file export through its platform, but the mileage report it generates needs to be revised and often requires additional accountant input to meet IRS standards. Gridwise itself gives a warning to its users:
Disclaimer: The Gridwise gig driver assistant app is not a personal tax advisor. We rely on you to track only business expenses for accurate tax reporting. The information above is meant only for guidance purposes and not as professional, legal, or tax advice. Furthermore, the information above does not give personalized legal, tax, investment, or any business advice in general.
If you take a look, the report is very rudimentary: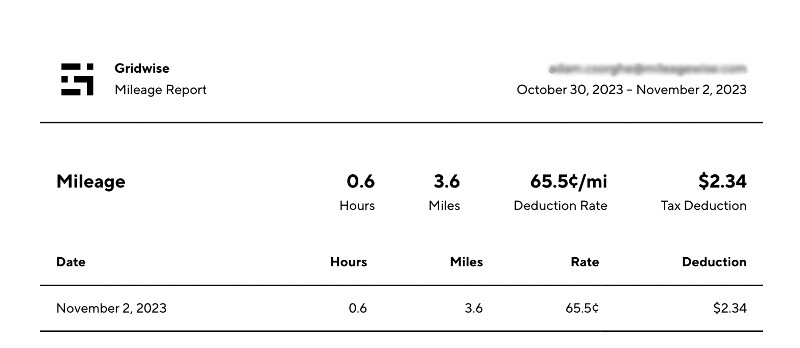 MileageWise, on the other hand, offers you a Built-in IRS Auditor that guarantees that your logs stand up against IRS scrutiny.
No Vehicle Expense Monitoring
While many rideshare and delivery drivers worry about maintenance and other expenses while using their cars for gigs extensively, Gridwise doesn't offer a vehicle expense tracker.
Choose MileageWise, and you'll have access to a dedicated Vehicle Expense Tracker, which not only tracks repair and maintenance costs but also integrates these into your IRS-validated mileage log, thereby streamlining your deductions for vehicle expenses against business usage.
So What's Our Verdict?
In the realm of mileage tracking and gig economy support, both the Grid wise app and MileageWise bring valuable tools to the table for drivers looking to optimize their earnings and maintain accurate logs for tax purposes.
Gridwise offers notable features like earnings tracking, demand insights, and airport demand updates even in its free version, along with perks such as fuel savings and insurance coverage.
However, MileageWise distinguishes itself with capabilities that address some of Gridwise's limitations. These include the flexibility to edit past trips, retrospective logging with Google Maps Timeline integration, AI Wizard assistance for IRS-Proof documentation, trip categorization, and a robust built-in IRS-Proof mileage log creator.
Furthermore, MileageWise's Vehicle Expense Tracker is an essential tool for drivers to monitor and integrate vehicle expenses into their tax documentation seamlessly.
For those who need comprehensive, editable, and IRS-compliant mileage logs coupled with vehicle expense tracking, MileageWise emerges as a superior choice, ensuring that drivers are well-equipped for both day-to-day efficiency and long-term financial management.
Download MileageWise's automatic mileage tracker app from Google Play or the App Store & try it for free for 14 days. No credit card required!
Similar blog posts