Last updated: October 24, 2023
In today's digital age, Google's suite of services has become an integral part of our daily lives. From email to maps, Google offers an array of tools that streamline our online and offline experiences.
One such feature that often goes unnoticed is Google Timeline. In this blog post, we'll dive into the world of Google Timeline and explore the concept of Google Timeline history, its components, and how you can utilize it to create an IRS-Proof mileage log using MileageWise.
If you've never maintained a mileage log before, or there are obvious trip gaps in your records, you'll find yourself needing to reconstruct your travel history for IRS auditing purposes. This is where your Google Timeline History data becomes invaluable.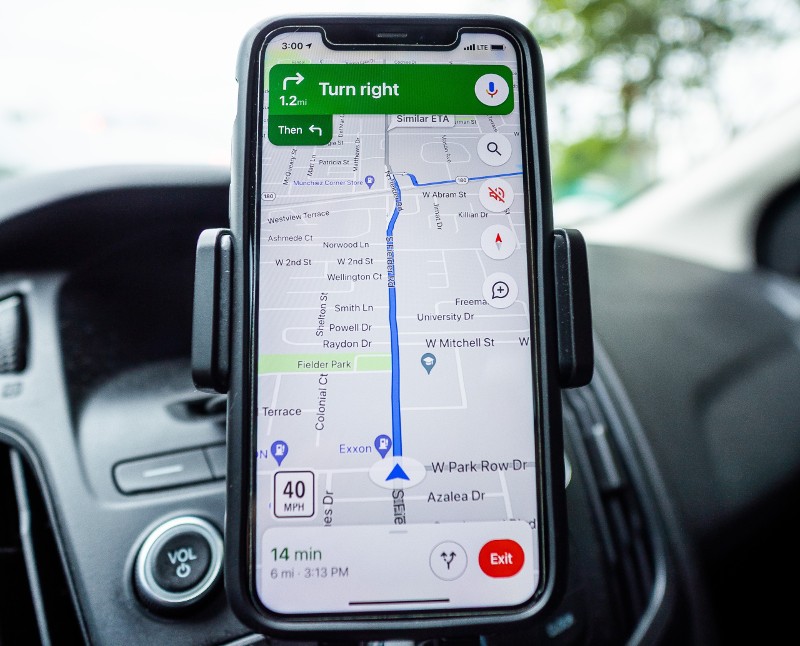 What is Google Timeline?
Google Timeline (also called Google Maps Timeline) is a feature that allows Google users to track and visualize their location history over time. It is integrated with Google Maps and collects location data from your mobile devices and other Google services, creating a comprehensive record of the places you've been.
While this may sound like a privacy concern, Google assures users that they have control over their location data and can easily manage and delete it. Plus, in our case, the records Google creates in the background can translate to significant tax savings.
What is Google Timeline History, and What is it Made Up Of?
Google Timeline History is essentially a collection of location data that Google has gathered from your devices and services over time. This data includes information like:
Places You've Been: It logs the exact locations you've visited, from restaurants and parks to airports and hotels.
Dates and Times: Google Timeline records when you were at each location, giving you a chronological view of your activities.
Routes and Paths: It also tracks the routes you've taken to get from one place to another, including the mode of transportation used.
Google Timeline uses this data to create a visual timeline that you can explore on Google Maps. It's a handy tool for reminiscing about past trips, tracking your daily routines, and even helping you remember where you parked your car. And again, those records are a goldmine, if you need to recover past trips retrospectively!
Let's see the two steps required to turn your Google Timeline records into an IRS-Proof mileage log.
1. Export Your Google Timeline History Using Google Takeout
If you want a copy of your Google Timeline History or want to take control of your location data, Google provides a straightforward method to export it using Google Takeout. We're going to use the same method to export Google Timeline to Excel and then feed that file to MileageWise to create an IRS-Proof mileage log out of it.
Step 1: Visit Google Takeout
Open your web browser and go to Google Takeout (takeout.google.com).
Step 2: Select the Data to Export
Scroll down to find "Location History" in the list of available data.
Click "Deselect All" to uncheck all the options.
Check the box next to "Location History."
Step 3: Customize Your Export Settings
Click on "All Location History Data Included."
Choose the date range for the data you want to export.
Select the file format you prefer (JSON or KML).
Click "Next."
Step 4: Create Your Export
Choose how you want to receive your export (via email link or adding it to Google Drive, Dropbox, or OneDrive).
Click "Create Export."
Google will then compile your location history data into the selected format and notify you when it's ready for download.
2. Create a Retrospective Mileage Log for IRS Auditing
If you're planning to claim tax deductions retrospectively for the mileage you've driven for business, start by exporting your location history using Google Takeout, as mentioned earlier in this post.
Once you have the data, you can use MileageWise to turn it into a retrospective mileage log. At this point, you might ask: why can't I just use a free option and create a proper mileage log from my exported Google Timeline data?
Well, the answer is simple: who would want to manually edit thousands and thousands of rows to comply with the following IRS mileage log requirements:
State the year-start & year-end odometer readings of your car
State the mileage for each business trip (e.g. 18.6 miles)
State the date, the starting & ending locations, and the purpose of each business trip
State the total mileage you drove during the year for business, commuting, and personal purposes other than commuting
It's safe to say that the time, energy, and, not to mention, the stress associated with the entire editing process simply isn't worth it when you have a tool like MileageWise at your disposal.
With MileageWise all you need to do is simply import your Google Timeline records into the software. Just go to the web dashboard and start the import process. Input the date range for the period you want to track and let the app do the rest. Make sure to use the JSON format, not the KML one.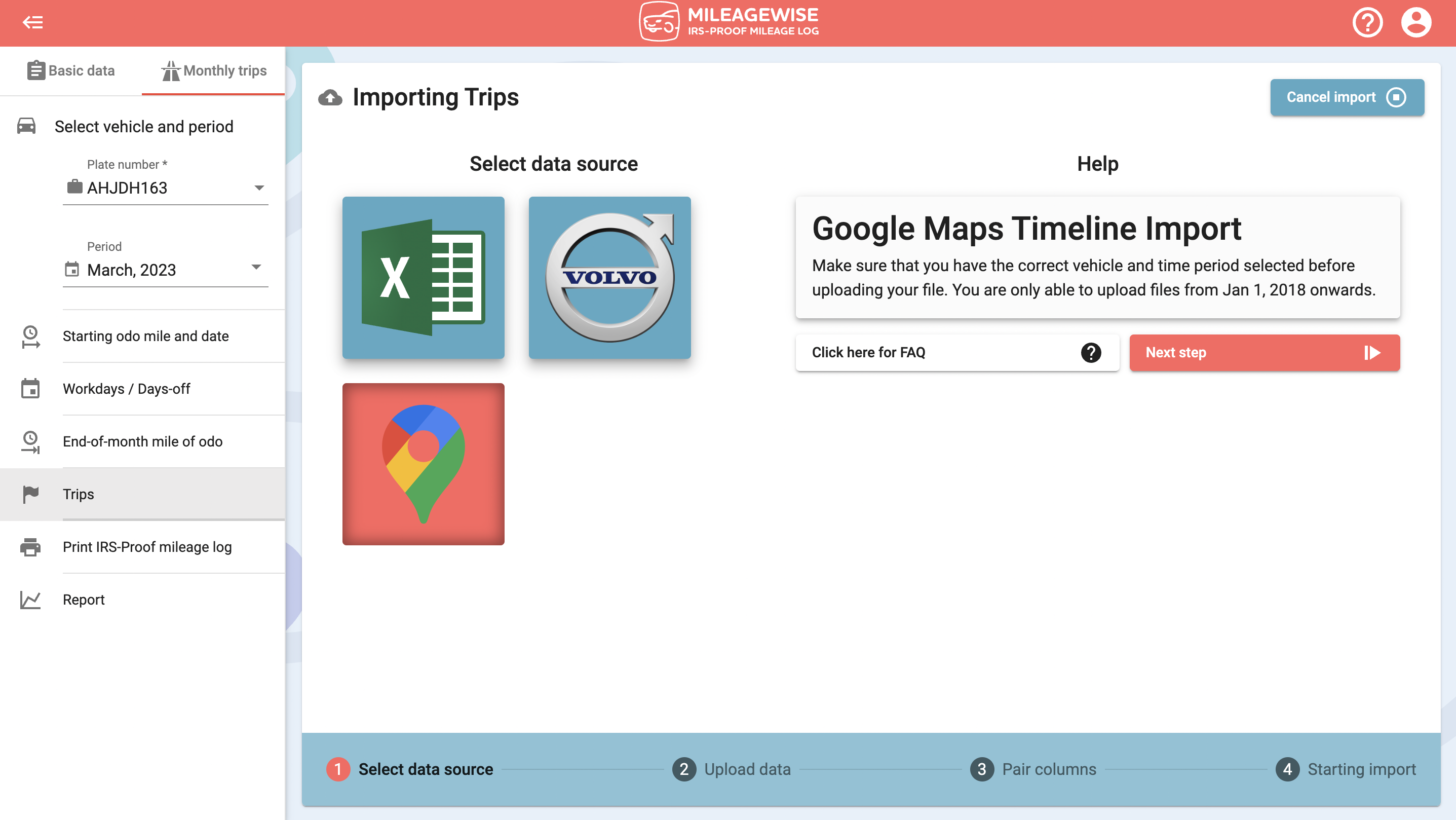 MileageWise will calculate the distances traveled and expenses incurred, add trip classifications, display clients, and so on, ensuring that your mileage log meets IRS compliance standards.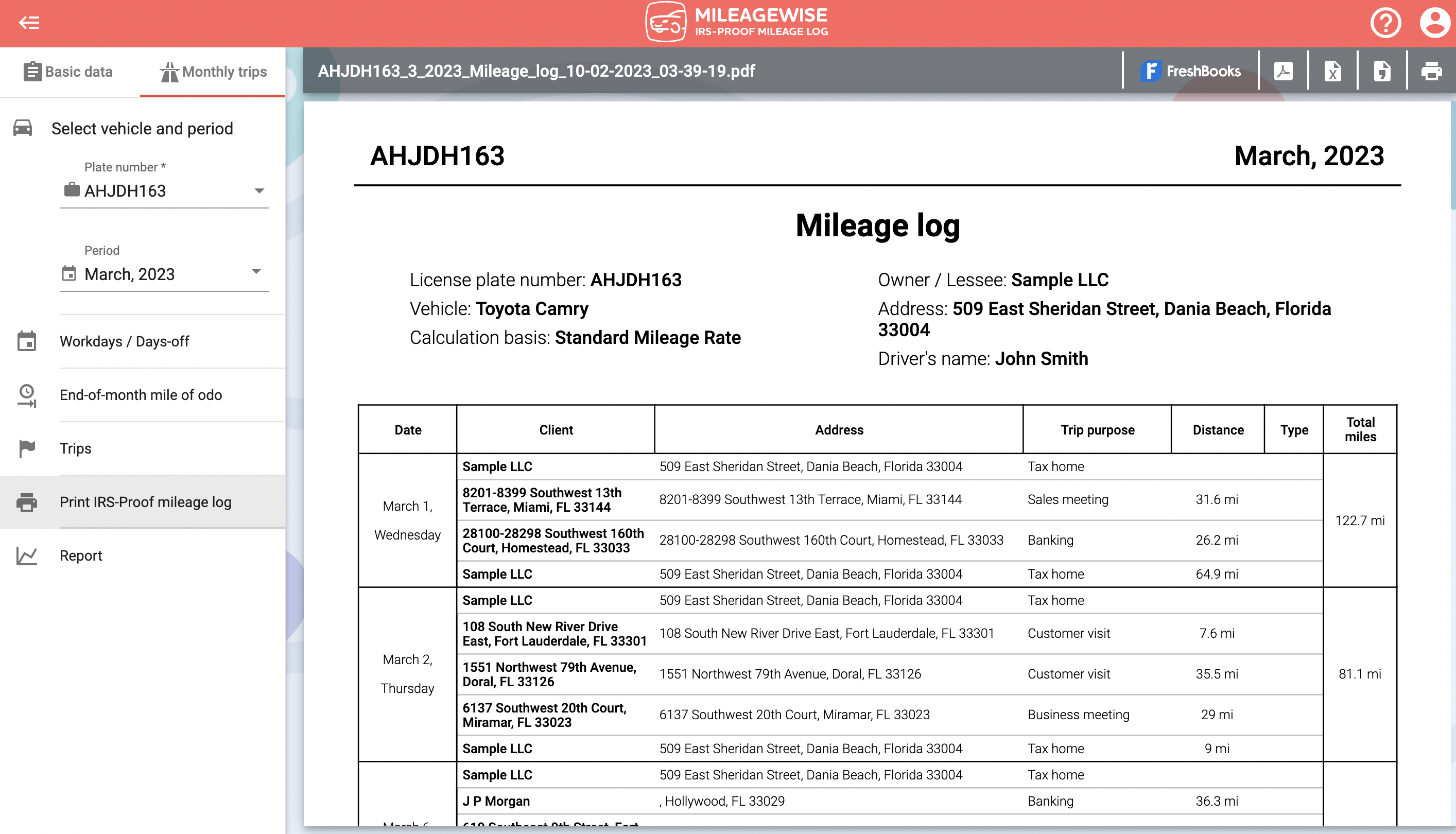 Having an accurate and comprehensive mileage log not only helps you claim legitimate deductions but also provides peace of mind in case of an IRS audit. So, whether you're a business owner or an employee, your Google Timeline History data can be a lifeline when it comes to maintaining proper records for tax purposes.
What Are the Added Benefits of Using MileageWise?
MileageWise is a powerful mileage tracking app that can help you transform your Google Timeline History into a neatly organized and IRS-Proof mileage log effortlessly. And there's more:
Mileage Log Tax Preparation Service: If you just don't have the time to recover your Google Timeline records and would prefer to outsource the process, MileageWise offers you a Mileage Log Tax Preparation Service. Let the company experts take care of your mileage log!
Mileage Log Audit Defense: For a small annual fee, you can avail of MileageWise's prepaid service that guarantees you an IRS-Proof mileage log should an audit strike. No matter if you let us know about your need at the last minute, our experts can make sure your mileage log will stand up against strict scrutiny!
IRS Compliance: Our general mission is to guarantee reports that adhere to IRS guidelines, ensuring that you have a proper record for tax purposes. MileageWise's Built-In IRS Auditor checks and corrects up to 70 logical contradictions in your log before recommending the final printout!
AI Wizard: when you need to cover trip gaps retrospectively, you can always count on MileageWise's AI-powered wizard that helps you with recommending realistic trips based on your past driving patterns and the locations you visited. 
Start Transforming Google Timeline History into Tax Savings Today
In conclusion, Google Timeline History is a highly useful feature that allows you to visualize your past movements and activities. By exporting this data using Google Takeout and utilizing tools like MileageWise, you can turn it into an IRS-compliant mileage log, helping you manage your finances and taxes more efficiently. So, go ahead and explore your digital past, and make the most of your Google Timeline History4
Similar blog posts