Sep 14, 2023
One of the core requirements of claiming mileage tax deductions is to provide an accurate record. One of MileageWise's convenient features is the standby timer function. Whether you're a freelancer, small business owner, delivery person, or someone who just wants to keep track of their travel expenses, the standby timer ensures that the miles driven for business purposes are recorded more precisely, making your records impeccable.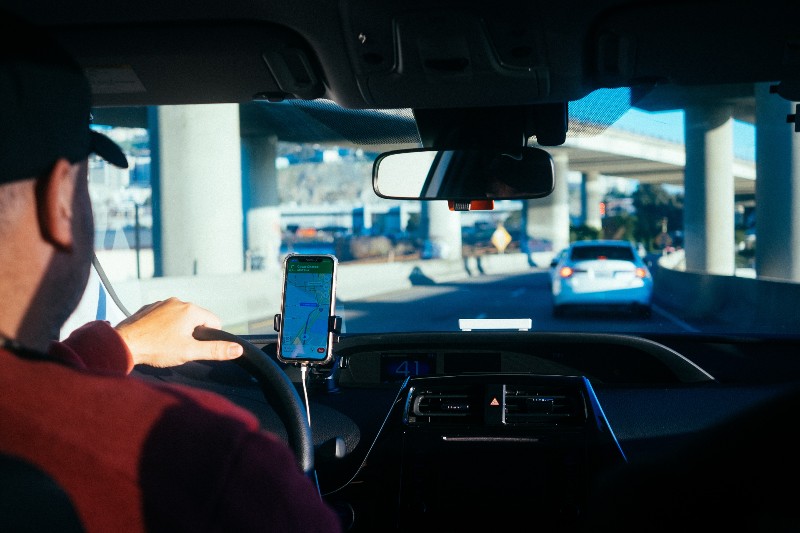 Convenience for Quick Stops
We all know that business trips and deliveries don't always go seamlessly. Sometimes you might have to park a distance away from the drop-off point, or you might need a short break. If you are an Uber Eats or DoorDash driver, you need to wait for the customer to receive the food you just delivered. The standby timer caters for these short pauses, ensuring that you won't have to remember to switch off your mileage tracker manually every time you leave the car.
Auto-restart Functionality
What's more frustrating than forgetting to turn off your tracker? Forgetting to turn it back on! The standby timer removes this worry by automatically restarting when you get back into the car within the pre-defined time. This means that even if a delivery or break took a little longer than expected, you won't miss out on tracking any crucial miles.
Customizable Timer Settings
Every driver's routine is different. Some might need just five minutes for a delivery, while others might require fifteen. The Mileagewise app understands this diversity and offers customizable timer settings, allowing drivers to set the standby time that best suits their workflow.
Open the MileageWise app and tap Set recording parameters on the main screen. In the resulting screen, look for the Standby Timer tab and adjust the length by moving the slider into the desired position: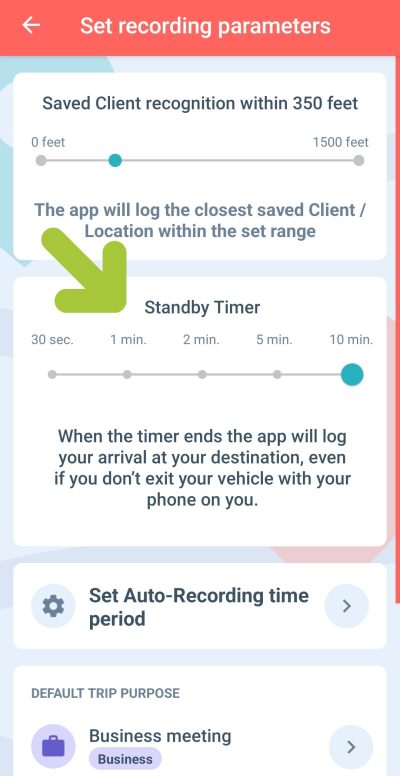 MileageWise brings a different approach to movement tracking, offering you three secure options over GPS and Wi-Fi: vehicle movement monitoring, Bluetooth monitoring, Plug'N'Go monitoring, and manual recording.
Since MileageWise doesn't rely on GPS or Wi-Fi to track your movements, you can always count on its discretion while enjoying the benefits of an automated tracker running in the background. Need to grab a few bites before dashing to the next meeting? Set the standby timer to 10 minutes and enjoy your meal without having to worry that you'll forget to restart the tracker.
Constantly running apps can drain your phone's battery. By not tracking mileage when it's unnecessary (like when you're out of the car), the standby timer can help conserve both battery and data.
When you're juggling multiple tasks – like navigating traffic, finding parking, and ensuring timely deliveries – the last thing you want is another thing to remember. The standby timer offers drivers peace of mind, knowing that the app is efficiently handling their mileage towards IRS-proof logs without constant intervention.
The standby timer function in Mileagewise is not just a feature; it's a solution to many of the common problems faced by those who need to track their mileage on a daily basis. Its integration into the Mileagewise platform showcases the commitment to providing tools that are not just technologically advanced but also incredibly user-centric. If you haven't tried Mileagewise yet, consider giving it a shot and experience the difference for yourself.
Download MileageWise's automatic mileage tracker app from Google Play or the App Store & try it for free for 14 days. No credit card required!
Similar blog posts