Last updated on September 15, 2023
There are tons of miles trackers on the market, so it's pretty hard to decide which app to track miles with. In this article, we're trying to help you make up your mind to make the right choice depending on your mileage logging needs.
What is a mileage log app?
"I use my car for day-to-day business, so I need something to track my miles with."
People who drive a car to create revenue like independent contractors or small business owners need to find a way to track mileage – business as well as personal miles – in order to deduct a portion of their vehicle-related expenses, such as gas, maintenance, lease, etc.
A mileage tracker app logs the trips you take by car and collects them in a list, which is eventually going to be your mileage log.
People used to manually log their trips on paper, then many switched to Excel spreadsheets, but nowadays the quickest, easiest, and most effective way of logging your trips is on a mile tracker app.
How do mileage apps work?
Automatic mileage monitoring applications use your built-in GPS to figure out how long you travel and save the data for later use. Some programs need you to start and stop the counting, but others operate in the background and do not require any user involvement.
The trip recording mode highly depends on your driver profile, habits, and usage – while some people use Car Bluetooth tracking, others prefer the Plug'N'Go phone charging method, the fully automatic Vehicle movement monitoring recording mode, and there are avid fans of manual trip recording, too.
The point is, that a mileage tracker app is supposed to be punctual no matter what recording mode you choose, and it's a great thing if it offers you recording options on a wider scale.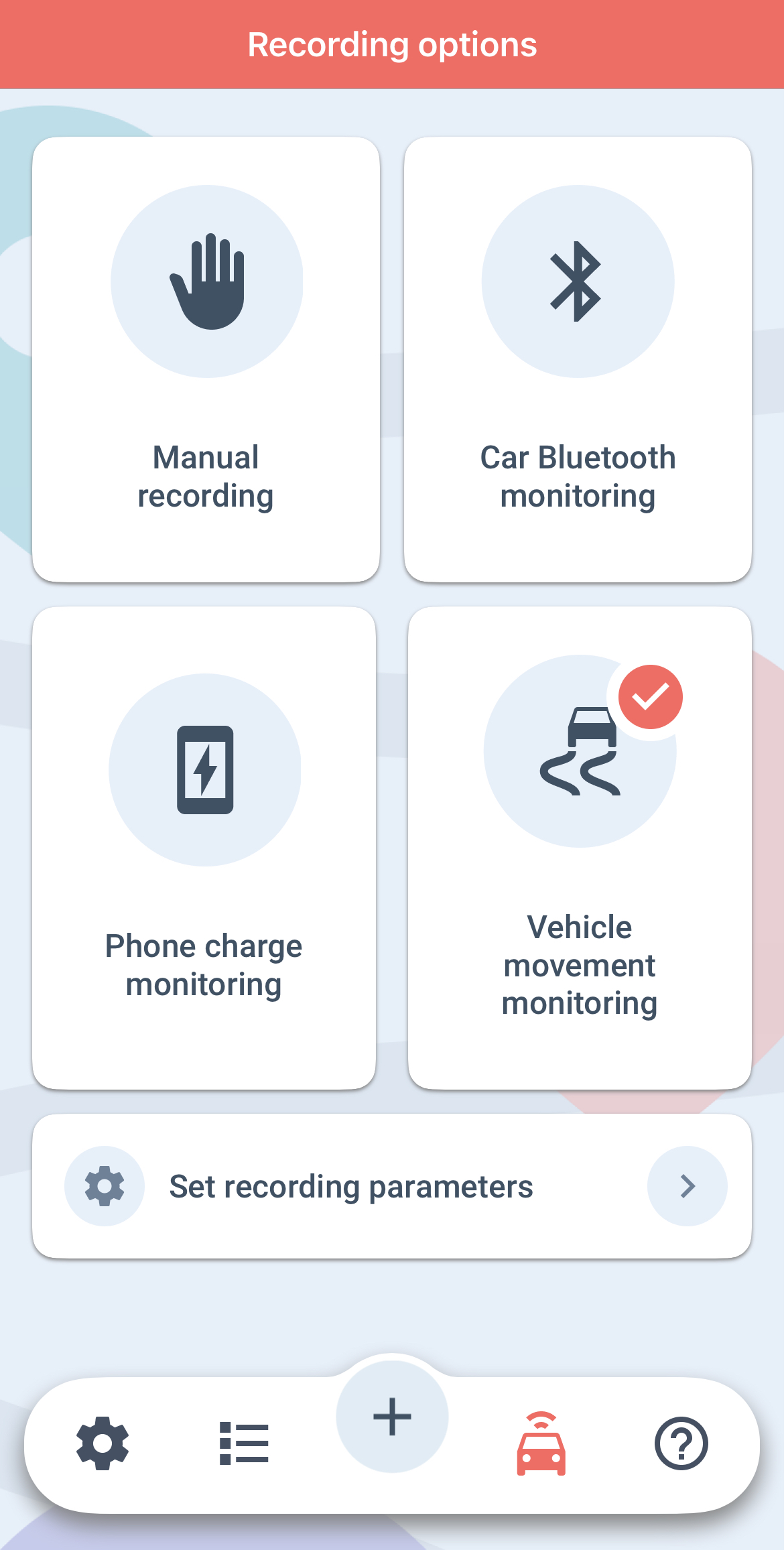 What are the benefits of using a mileage log app?
It is more convenient. Period.
If you drive your car every day to create revenue – either as a small business owner or a gig worker -, you are likely to spend long hours on the road every day.
As you have a lot on your mind and don't want to waste time logging your trips in your handwritten notes, it's generally a good idea to download a mileage tracker – this way, tracking drives and recording them with all needed info (mileage, dates, locations, etc.) are done automatically.
It saves you both time and money.
A mileage log book app like MileageWise (downloadable on both Google Play Store and Apple's App Store) helps your business by tracking the distance you drive. These smartphone applications may also illustrate essential parts of your car mileage and alert you to any abnormalities that need to be corrected. You would also save time by not having to double-check yourself or your staff how many miles were driven that day.
Apps for mileage vs. Spreadsheets vs. Web apps
The pen-and-paper method and the Excel trend that followed it have become tremendously outdated by the 2020s, as there are tons of advanced mileage tracker apps out there.
Some people also use these programs like an app for expense tracking, regular mileage reporting, accounting software integrations, and so on, but right now we're going to focus on the actual mileage tracking features that can fit any small business in the United States.
Spreadsheet:

 
Excel or Google Sheets templates for mileage tracking are done by many people, but take a lot of manual work, and there's no way to be 100% sure that it's error-free. On top of this, logging your trips on a spreadsheet takes a big chunk of your well-deserved free time.
Mileage counter apps on mobile:
Usually, a mileage app means that you record the trips you drive on your phone with an application. These apps vary; some use GPS, and others connect your arrival points with mass distance calculation.
Then, you've got your trips in a list with the locations, dates, times as well as deductible amounts, so you know how much you'll be able to claim at your vehicle mileage tax deduction from the IRS.
Mileage counter web apps on desktop:
In the world of mileage logging, a dashboard is basically the main control panel of the software, usually opened straight on your browsers like Google Chrome or Safari.
In the dashboard, you're able to see your vehicles, clients, and monthly trips in a calendar where you're able to edit them to your liking – in case a mistake was made during the mobile tracking.
This web dashboard is what MileageWise excels in, not many mileage tracking companies focus on their web dashboard platforms, despite the fact that it opens a whole bunch of new possibilities for the user.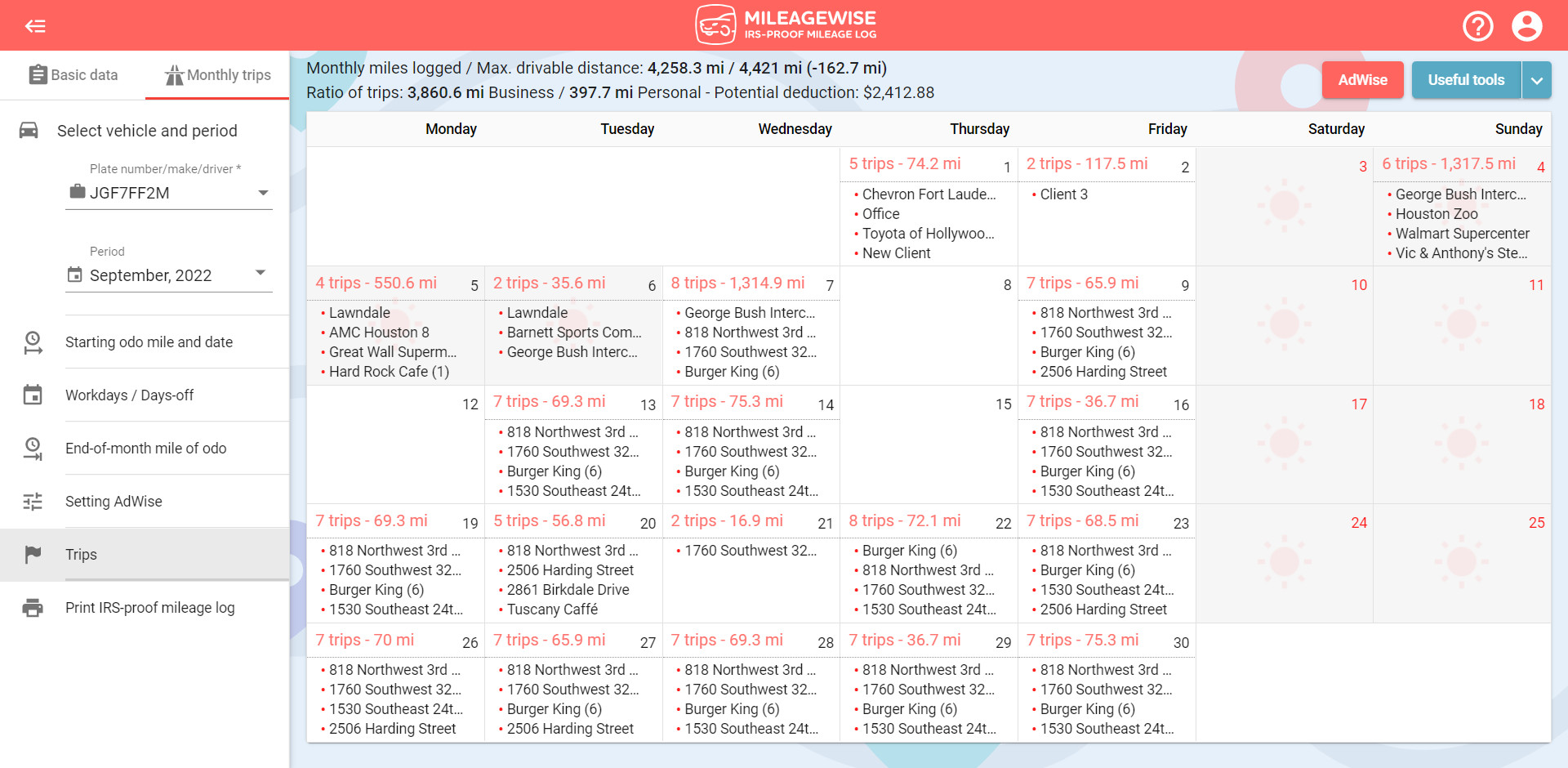 What to look for in a mileage tracker app
Featurewise – as mentioned above -, you should look for a drive tracking app that has many recording options. MileIQ, for instance, has only 1 automatic tracking mode, which certainly won't fit everyone's needs – MileageWise has 4 recording options:
Other business mileage trackers like TripLog or Everlance offer an iBeacon device for Bluetooth recording, which is ridiculously unnecessary – MileageWise can record your trips using your car's Bluetooth device or any other Bluetooth device you've got in your car.
Dashboard platform to supplement the mobile app
Another factor is whether a car mileage tracker app has a supplemental dashboard platform or not. Having one means that the trips are editable and you can actually get the most out of your mileage tax deduction when it's tax time.
A battery- and data-friendly mile counter app is always great as you won't have to worry about keeping your phone on the charger all day.
Some apps use GPS to track you all the way, while others (like MileageWise) connect your arrival points. This means that the latter option is far more battery-friendly because using GPS all day eats up your battery and mobile data as well.
Tracking your car-related business expenses is a great add-on to any mileage software out there. With MileageWise's vehicle expense tracker, you're currently able to track expenses in the Web Dashboard platform, but this feature is coming soon in our mobile app as well.
Free mileage tracker app – Are there any at all??
The truth is that there are no mileage apps that you can use unlimited with a free plan.
This is how many monthly free trips each mileage app offers:
QuickBooks mileage tracker: 0 (no free trips)
Driversnote: 20
Everlance: 30
Triplog: 40
MileIQ app (sometimes referred to as 'Mileage IQ'): 40
MileageWise offers an unlimited 14-day trial with no credit card needed.
Honestly, if you drive for business, are 15-40 trips enough for you each month? Nope, didn't think so either.
MileageWise has a good chance to top the podium of the best free mileage tracker app candidates as it's the closest thing to a free mileage tracker app when it comes to unlimited trips.
Google Maps Timeline trips into an IRS-approved mileage log
Yes, the revolutionary function that basically gives you a Google mileage tracker is now available, currently only at MileageWise.
If you have your Location History turned in your Google account, you have your trips recorded by Google in a list, broken down nicely with all the info you need.
You are now able to convert these trips into an IRS-ready mileage log via MileageWise's web dashboard platform.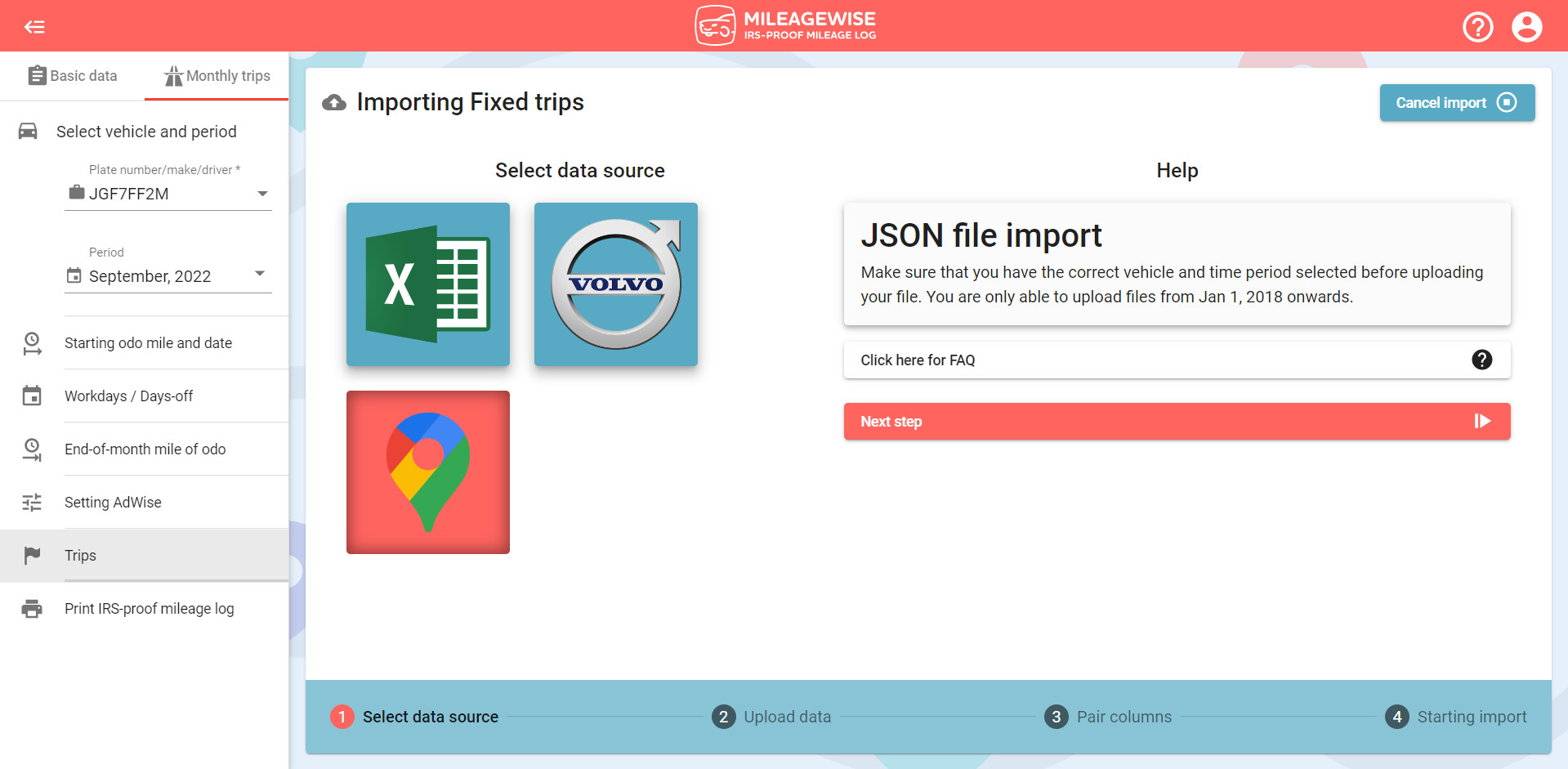 The best mileage tracker apps
Check our comparison table of the best mileage tracking apps out there.
In this review, we've compared:
the most important and useful features,
the achievable amount of mileage tax deduction,
options for a free mileage tracker app,
supplemental services,
pricing & plans,
third-party integrations,
and much more factors. Find out how to track mileage on iPhone or Android and test the apps of your choice.
All in all, take a thorough look at our miles counter app comparison table to see your options for yourself.
There are hundreds of acceptable mediocre, and even useless miles trackers in the market, but there are only a few unique ones like MileageWise, which guarantees 100% IRS-approved mileage logs.
MileageWise makes sure that your mileage is IRS-ready with its built-in IRS auditor function that checks and corrects 70 logical clashes in your mileage log before letting you print it.
Some extra functions of MileageWise are IRS mileage audit defense, Google Timeline trip import, and many more essential actions that none of the other mile counting apps have.
Try MileageWise for 14 days for free, without any credit card info needed.
See Why Wise People Choose MileageWise
Similar blog posts