October 19, 2023
While there's money on the table, many who drive for business have a sloppy approach to tracking their business mileage for tax deductions. If you're just starting with tracking but forgot to keep track of your mileage during the year, have incomplete mileage logs, or need to prove additional mileage to the IRS, you'll also need to create a retrospective mileage log.
Thankfully, in today's digital age, tracking your travel history and creating mileage logs out of it, even retrospectively, has never been easier. You just need the right tools and the right method.
Even though the raw data stored in it needs processing, Google Timeline, a feature embedded within Google Maps, offers a valuable solution. However, when it comes to exporting your Google Timeline data, it's important to choose the most reliable method, and that's where Google Takeout comes into play.
In this blog post, we will guide you through the process of exporting your Google Timeline data via Google Takeout and demonstrate how MileageWise can help you create IRS-Proof mileage logs with ease.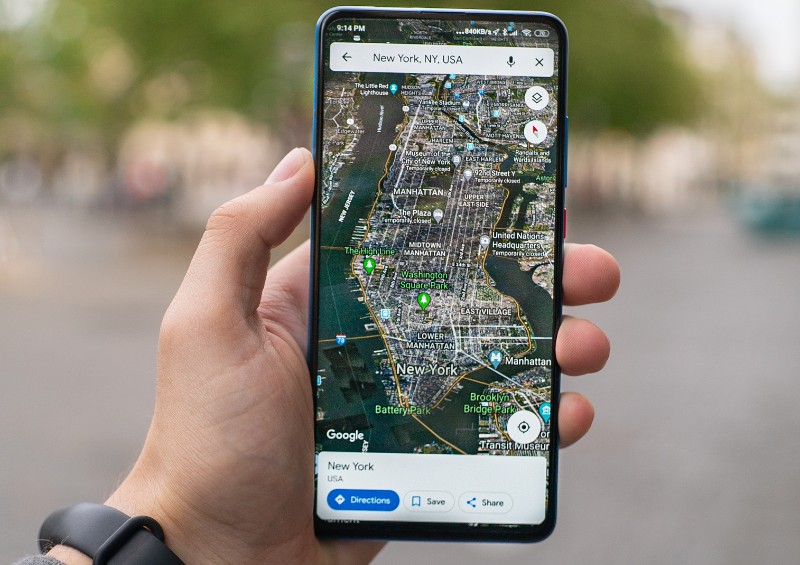 What Is Google Timeline?
Google Timeline is a feature in Google Maps that allows you to see a history of the places you've been and the routes you've taken. It uses your location history to create a personalized map that you can view on your computer or mobile device. Since your history logs are easily available, you can use MileageWise to turn them into an IRS-Proof mileage log.
Exporting Google Timeline Data: The Best Approach
So now that we've established how your Google Timeline can help in creating a retrospective mileage log for a tax deduction, let's see how to do this thing and what's your best choice for a timeline exporter tool.
When exporting your Google Maps Timeline to Excel, your best bet is Google Takeout. While there are some free options out there, they lack the reliability and comprehensiveness necessary for accurate and hassle-free mileage tracking.
Exporting with Google Takeout: A Step-by-Step Guide
Here's a brief guide on how to export your Google Timeline to Excel using Google Takeout. In only seven steps, you'll get the accurate raw data you need to be processed by MileageWise. 
Access Google Takeout: Open your web browser and visit Google Takeout by typing "Google Takeout" into the search bar.
Sign In: If you're not already signed in to your Google account, do so now.
Select Data to Export: Scroll down the list of Google services and find "Location History" or "Google Maps Timeline." Click on it to access your timeline data settings.
Customize Your Export: You can customize the format and frequency of your export, ensuring compatibility with your mileage log template in Google Sheets.
Create Export: Click on the "Next" button to proceed. Review your selections and click "Create Export."
Wait for the Download Link: Google Takeout will start preparing your data for export. Depending on the size of your timeline history, this process may take some time. Google will notify you once the export is ready.
Download Your Data: Once notified, click on the provided download link to obtain your Google Timeline data. The data will typically be available in a ZIP file format.
With your Google Timeline data successfully exported through Google Takeout, you're now ready to transform it into an IRS-compliant mileage log using MileageWise.
Don't Do It The Hard Way
While it might be tempting to rely on the free method and extract data directly from its export feature, consider the following examples of what you'd have to painstakingly redo manually if you opt for the free options:
The year-start & year-end odometer readings of your car
The mileage for each business trip (e.g. 18.6 miles)
The date, the starting & ending locations, and the purpose of each business trip
The total mileage you drove during the year for business, commuting, and personal purposes other than commuting
Now, if you frequently use your vehicle for business purposes, this could result in the daunting task of editing thousands of lines in your records over a year. It's safe to say that this isn't something anyone would look forward to.
That's why we recommend you go for the wise choice and let MileageWise create an IRS-Proof mileage log, like this, for you: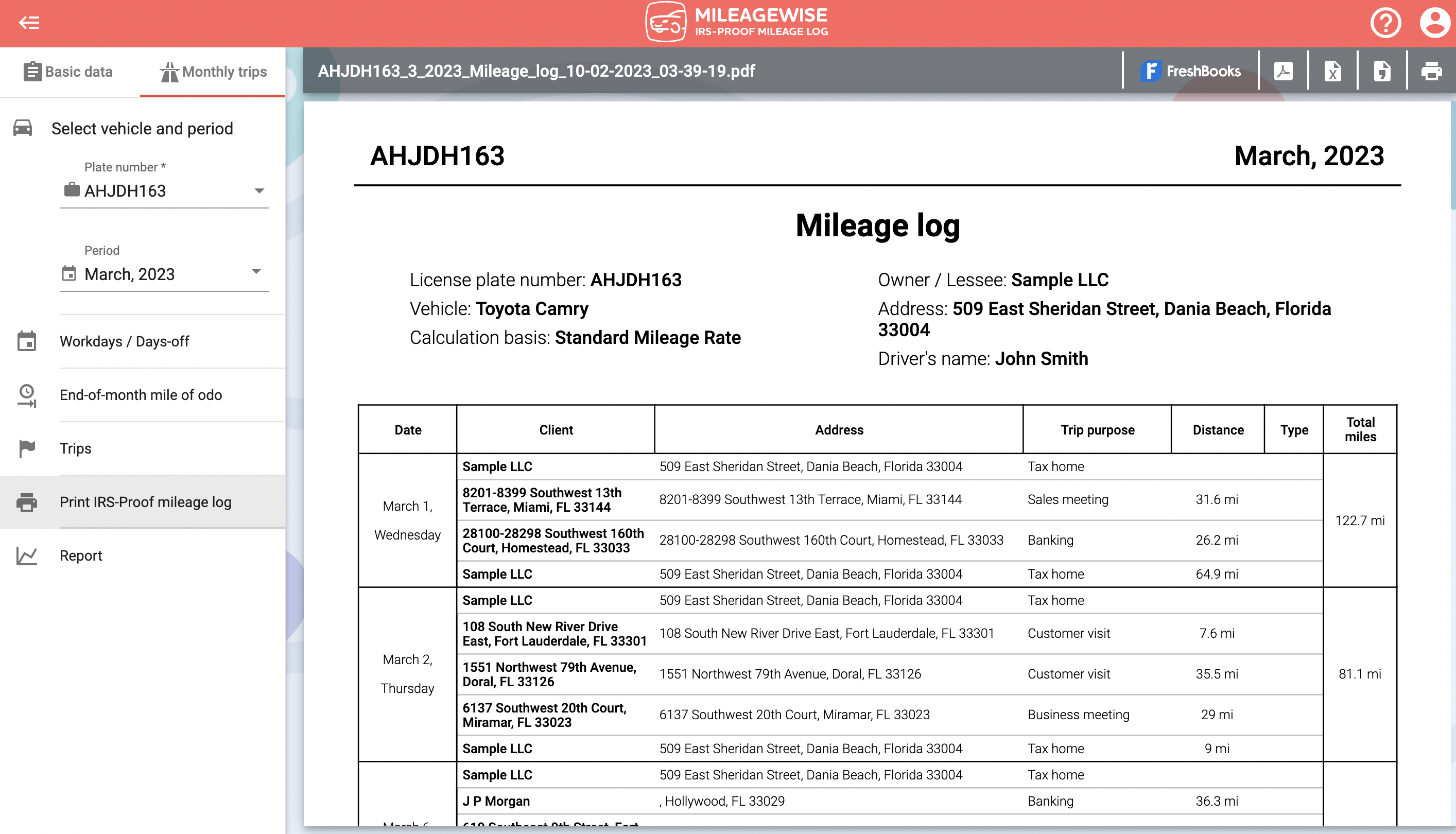 MileageWise: The Easy Way to Obtain an IRS-Proof Mileage Log 
MileageWise simplifies the process of creating IRS-compliant mileage logs from your raw Google Timeline data, efficiently addressing your mileage tracking needs. Once you've obtained your Google Timeline data through Google Takeout, you get access to a bunch of benefits:
Upload/Import Your Data: In MileageWise's Web Dashboard, upload your Google Timeline data, which is usually in Excel or CSV format. This process aligns perfectly with your mileage log template in Google Sheets.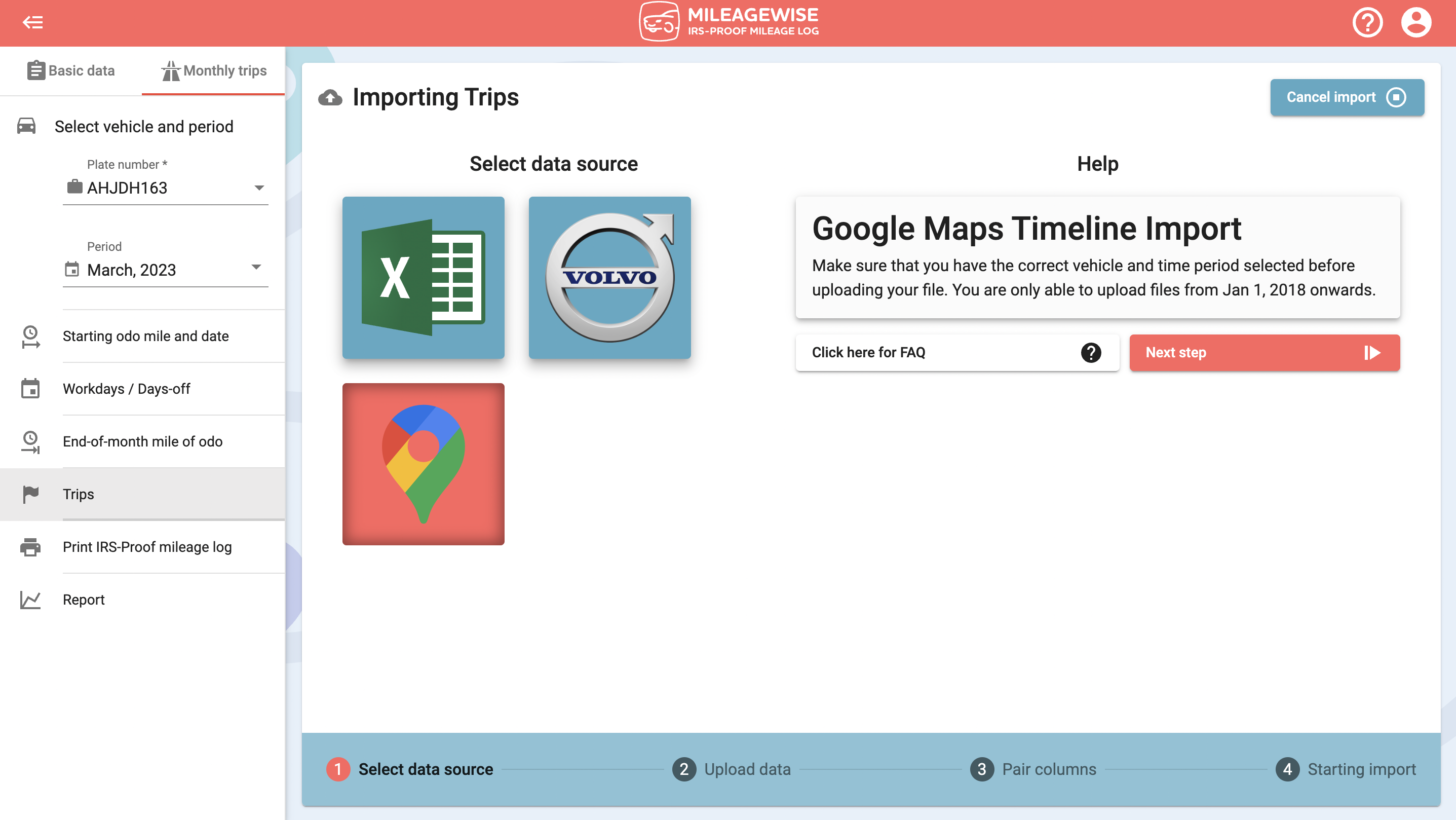 Automated Conversion: MileageWise automatically converts your data into a neatly organized mileage log template in Google Sheets, ensuring that all your Google Timeline history is accurately documented. Make sure to select the JSON format, not KML.
IRS-Compliance: Rest assured that your mileage log will adhere to IRS regulations, making tax season a breeze.
AI Wizard: MileageWise offers you another great feature to fill trip gaps retrospectively. Its AI-powered wizard recommends realistic drives based on your previous patterns and the locations you visited.
Detailed Reports: Generate detailed reports and summaries for business purposes or tax deductions with the help of MileageWise, Google Maps mileage log, and Google Maps mileage tracker.
Google Takeout & MileageWise: The Best Timeline Exporter & The #1 Retrospective Mileage Software
When it comes to exporting your Google Timeline data for an IRS-Proof mileage log, Google Takeout is your best bet. Follow the simple steps outlined above to export your timeline data securely. Once done, harness the power of MileageWise to transform your data into an organized and IRS-Proof mileage log, ensuring accurate records for business and personal use.
Begin today and take control of your travel history and mileage records with confidence, utilizing the power of Google Timeline, Google Timeline export, and the expertise of MileageWise.
Similar blog posts