Ever felt nervous about a possible IRS mileage audit?
You'll never have to worry about it again: MileageWise has got your back!
This post serves as a 20% OFF coupon for our Concierge Service, during which we'll rebuild your deficient mileage log in case of an IRS audit – helping you avoid an enormous IRS fine.
Also, this offer has NO expiry date. Save the picture below as a coupon for any time in the future. 🙂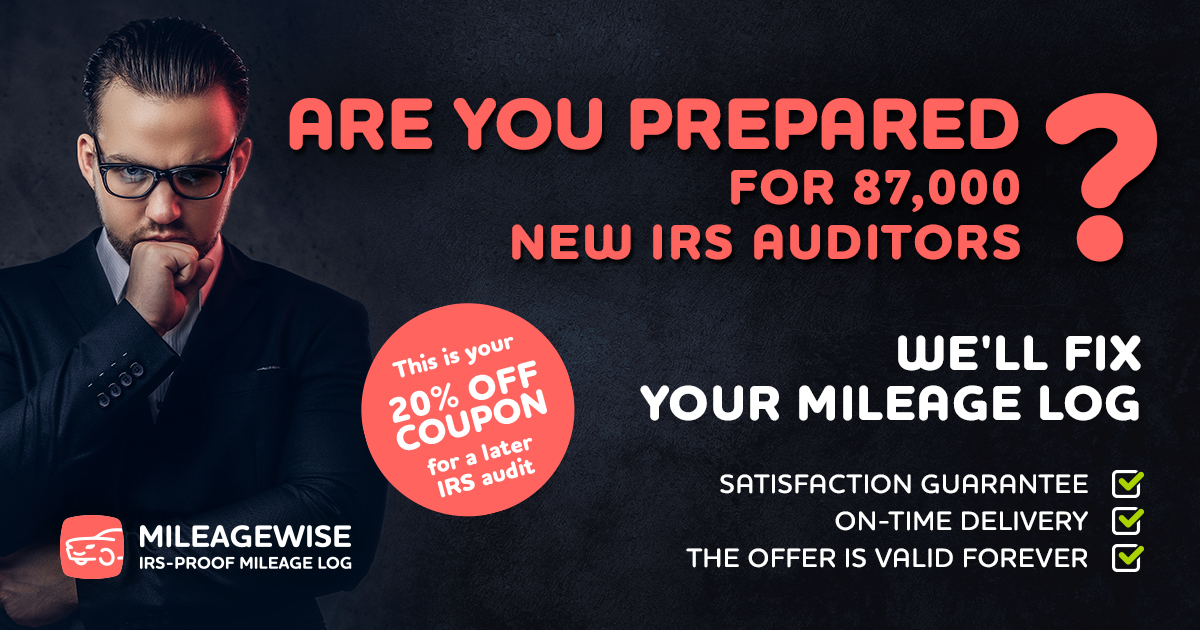 "What is MileageWise's Concierge Service all about?"
At an IRS mileage audit, you'll be asked to come up with sufficient documentation of your business miles for a particular year (or multiple years). If the content or format of your mileage log is not adequate, it's likely that you'll get fined by the IRS.
Don't worry, though: The mileage log experts and the software behind MileageWise's Concierge Service will help you rebuild your mileage log – ensuring that it's 100% IRS-compliant!
"How can I be sure that the IRS will approve of it?"
MileageWise's built-in IRS auditor function will check and correct 70 different logical contradictions in your mileage log, ensuring that your mileage log is IRS-proof before printing.
Here's what to do in different scenarios:
"I need to get my mileage log done ASAP."
If you're behind with your mileage log, call or email us and we'll give you a call within 1 business day.
"I don't need my mileage log prepared just yet."
Save this webpage as your Golden Ticket to claim your 10% discount anytime in case of an IRS mileage audit.
"I know someone who could use this coupon."
Forward this post to them, and they'll automatically be eligible for the 10% discount by having this coupon.
If you prefer to track your business miles on the go, download MileageWise's mileage tracker application from Google Play or App Store.
Similar blog posts